Have you ever held a garment in your hands and wondered, for a moment, about the many lives that intersected to bring this particular piece of textile into being? The different hands that lovingly touched the material and cared for it, sometimes across multiple countries and generations, before it arrived into yours?
Highlighting the human touch involved in production, from growing to spinning, weaving, altering and decorating, contemporary womenswear brand Ssōne reflects on this principle of provenance and craftsmanship in its inaugural collection, "The Visible Hand." Rooted in craft and committed to transparency, the London based label places traditional techniques and conscious progress at the forefront of their production philosophies, thoughtfully accompanying each piece with a note detailing the origin, life-cycle and techniques involved in its creation.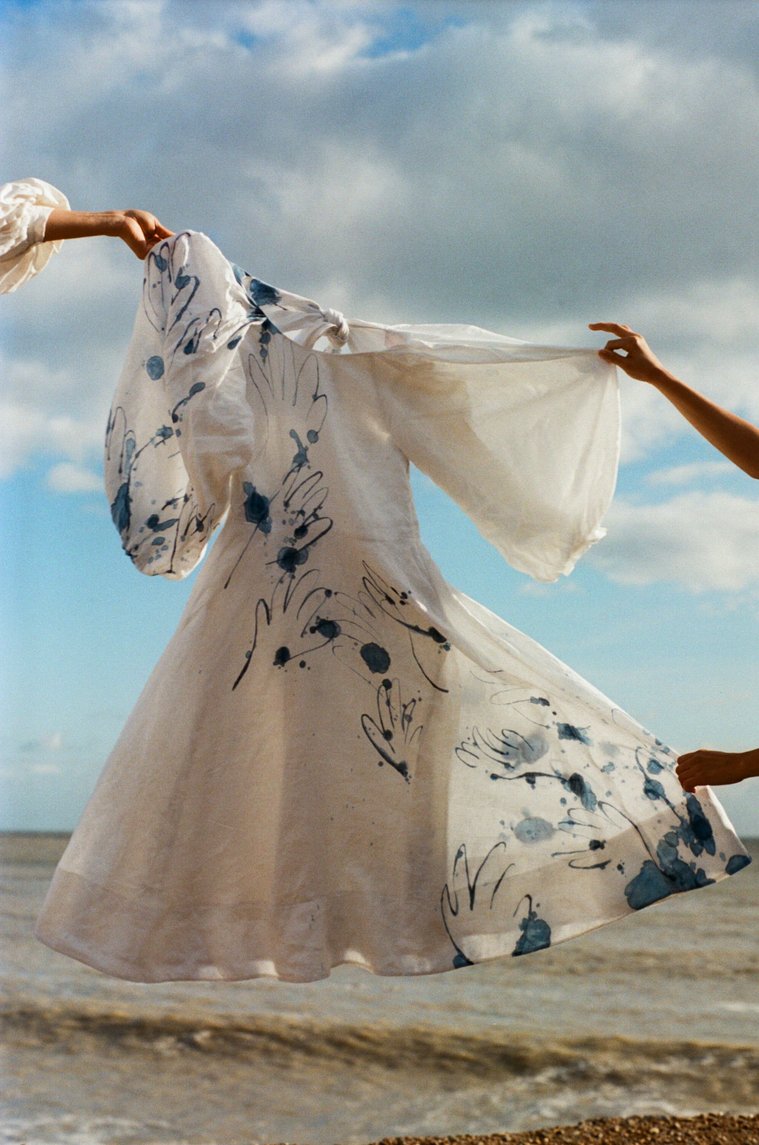 The Earth Issue's editorial, photographed by Elena Cremona and art directed and styled by Isabelle Landicho, playfully illustrates the concept of a garment's 'footprint' by impressing a blue handprint onto Ssōne's 'White-Sun' dress. Celebrated twin ceramicists and artists Liv & Dom hand-painted the surface design, adding their mark to symbolise the multiplicity of human intervention that underpins the clothes we buy and wear. The underlying message is that there is a web of lives, time, knowledge and skill involved in every garment. As such they are worthy of our care, not to be discarded as disposable trends. It encourages us to view our wardrobe as a timeless collection, to be slowly and mindfully cultivated through the years.

The featured 'White-Sun' dress was made from hemp, grown in Europe and woven in Italy. Hemp requires only a third of water relative to cotton, and has a tensile strength that is three times higher, thereby prolonging the durability and lifespan of the garment. The fabric was sewn by hand in the UK, finished with an exaggerated tie fastening, a distinctive balloon sleeve and sculptural volume that moves and billows poetically with the body. As with all the other pieces in Ssōne's collection, the White-Sun dress uses organic, recycled and natural materials alongside innovative technical fabrications that aim to reduce environmental impact. Their production methodologies prioritise natural botanical dye processes, low-water washing, and reviving artisanal communities that preserve traditional craftwork.


The seven sisters cliff in Brighton was chosen for the editorial setting, its stark, earthy palette and dramatic contours serving as a backdrop to the romantic forms of the garments. The freedom, movement and expression embodied by the models, Liv and Dom, reflects Ssōne founder Caroline Smithson's vision for the brand: "We want the Ssōne woman to feel optimistic, inspired, like she's part of something different and making a difference - we know she has her own mind, and doesn't need our directive."
Through these images, we invite you into the exciting and purpose-driven world of Ssōne.