On Setting Up A Sustainable Permaculture Farm in South India

Disillusioned by the big-city, corporate lifestyle, writer and designer Simrit Malhi turned in her hectic PR career in Bombay for a different sort of hustle and bustle: that of running a 15 acre farm in the South Indian hill-station of Kodaikanal.
Simrit's labour of love - Roundstone Farms, sits beside an ancient forest frequented by wild elephants, boar, bison and deer. It produces medicinal trees, timber, for oil, avocados, oranges, pepper and coffee, among other produce, all grown completely organically under biodynamic and permaculture principles. Together with her husband and daughter, Simrit runs the day to day operations of the farm while also hosting educational workshops on permaculture and environmental sustainability.
I have always admired those brave souls who change their lives so completely, to live more purposefully as per their inner intuitions. It was a pleasure to learn from Simrit about the realities of taking such a leap, and the fulfilment it can bring.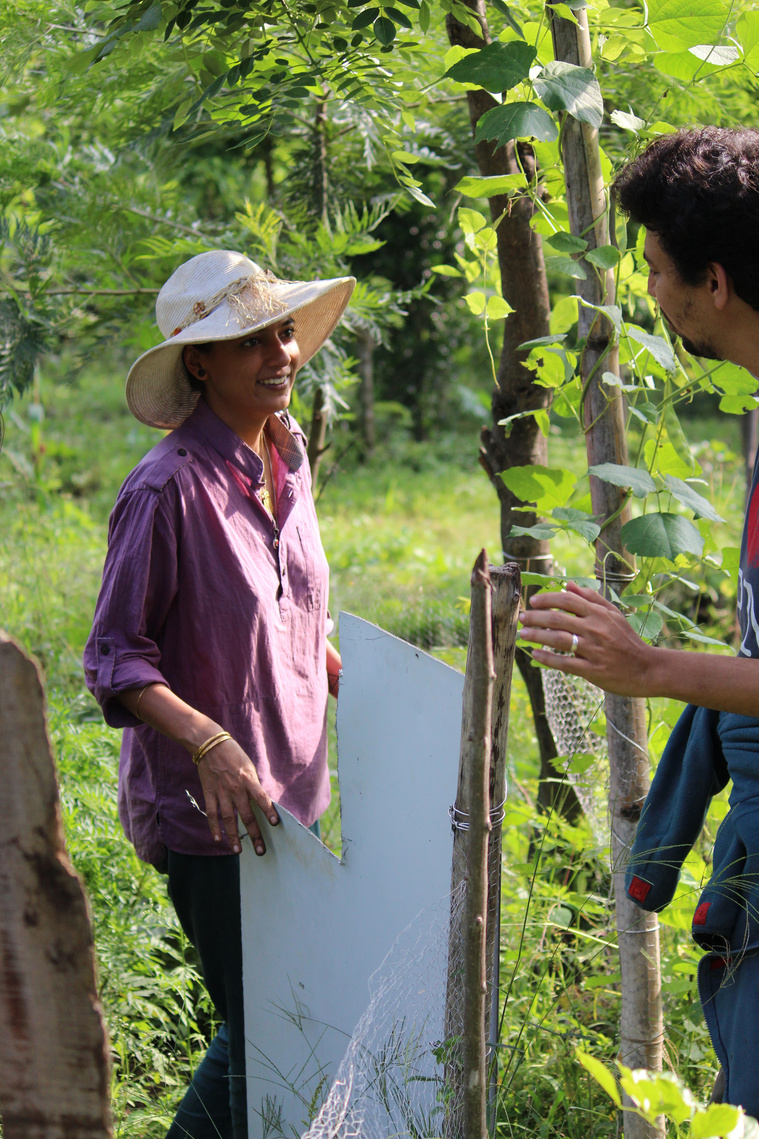 Maela Ohana: Could you tell us a bit about your background? How did you end up farming in Kodaikanal?
Simrit Malhi: About 10 years ago I stumbled across the concept of bio-dynamic farming, and was attracted to it because it follows the moon cycle and was created by Rudolf Steiner - the founder of the Waldorf schools and Anthroposophy. I studied it formally and under my best friend's dad who happened to be one of the first bio-dynamic farmers in India. I then landed a dream job of reviewing sustainable hotels around South Asia for a Danish company. I stayed in hundreds of hotels to inspect them on their ecological, social and economical sustainability - working while staying in the most beautiful places in the country.
I was beginning to understand that being sustainable doesn't mean having to make do. Like, what is true luxury?
I was also learning about how natural environments can be recreated and grown, but with the structured aim of beauty. I started designing and growing gardens in Mumbai and around the country. I was designing gardens and 'plant installations' according to different art movements; filing plants according to their architectural shapes. I was following Cecilia McCaughly, one of my favourite permaculturalists, and was very influenced by her. She once said, "Beauty is a form of renewable energy." Beauty itself gives you an impetus to create more beauty.
Meanwhile, I did a permaculture course in Thailand and bought a farm in the Palani Hills of South India, near a quiet mountain town called Kodaikanal. After my daughter was born in Goa, we decided to move to the farm. My husband is Dutch, so even now I don't live on the farm throughout the year. Nomad life. Now I farm, write on food and sustainability, hold permaculture courses and supply organic produce to the city.

MO: What were some of the reasons behind your decision to make that permanent jump, from urban life to farm life?
SM: I was working in a PR firm in Bombay, and it was loud, unhealthy and stressful. Tied in with the work I was doing in pharmaceutical PR (Big Pharma is real!); the dark side of politics, law and money got a bit too real for me. I knew immediately what I needed to do, and was living on a farm by the end of the year. I love the daily life of being a farmer but the foremost reason for me moving to a rural, self-sustainable lifestyle is, political.
MO: So what does a typical day at Roundstone Farm look like?
SM: Life is quite seasonal for us; so different things take precedent at different times of the year. In the monsoons, and the months leading up to it, the farm takes centre stage and is when we do the most of our planting, earthworks and harvesting. In winter, I wake up later, work on the farm less and more on my other projects. In the summer, there is always the threat of forest fires, which we need to work against. I also try to follow the moon calendar as much as I can, which has taught me a lot. I noticed I'm more lethargic on water days, and I plan so I have less to do then. The concept of a weekend has no real meaning to me. The only fixture in my schedule is the Sunday food market in Kodaikanal. That market deserves its own Netflix series. I always learn something new there.
MO: What are some of the most notable changes you observed in your lifestyle and perspective, after becoming a farmer?
SM: I have never worked harder or been happier. It is relieving to know that you are part of a solution in a time riddled with so many problems. The physical labour of being a farmer helps me not be in my head too much. It is a very meditative experience for me, so I find I am much more relaxed and…neutral. I used to be very 'anti' all the time; you know, no parabens, no plastic, no mass production. But since being a farmer and living in an extremely rural setting, I have come to appreciate junk food and the odd painkiller. I have become more 'for' than against all the time and more empathetic of all people. Creating and being part of communities is an essential part of Permaculture. The first thing you do on your farm is build a pizza oven, then start inviting your neighbours over. You are as strong as your community – when you are old and helpless, who will help you if not for the ones you once cared for? The trees I plant are not for me.
Also, we have also been thinking a lot about money. As we become more self-sufficient, we rely less on money. Out in the village, having a good water source for example, is more valuable than cash. So it has forced us to start talking about what it means to be 'wealthy'. Going back to the idea of the 'good life'; sometimes we don't have electricity and or any phone signal but I absolutely believe I lead a luxurious life. Of excellent produce, of living in a house you have built, of physical labour that ensures a big meal and good night's rest after, of the lack of stress, of living in constant natural beauty. It is a life of natural abundance. 'slowness' means luxury to me. Time is a rare commodity these days, and sitting in a garden, peeling peas or beans with my daughter, talking, day-dreaming and observing feels important, necessary and unfortunately, today - a luxury.

My husband has been teaching me a lot about how economic systems work… and how you can circumvent them. Not illegally! But through cryptocurrencies or barter systems. By not buying things. By giving away things for free. We have been very influenced by Charles Eisenstein's book – Sacred Economics; and it is fun being creative within all your life decisions, not just at work.

Cooking is a new passion for me and a creative outlet for me more and more. It unexpectedly ties in with my love for writing and farming. Through researching about what seeds and plants to grow on my farm, I am gaining a more nuanced understanding of what an 'indigenous' or traditional food is. It is interesting as a writer then to delve into the socio-political or cultural understanding of food, which I am very glad to see becoming a trend in the food-writing world.
You also host permaculture workshops at your farm. Can you tell us a bit more about this?
SM: I am obsessed with Permaculture. As a design system and way of life - it has completely changed the way I look at life. My understanding of it keeps evolving but at the same time, it is rejuvenating to be at a Permaculture Design Certificate course (PDC) and see new minds being blown away by it. It is a definite AHA moment for most of the people that come, so it is always very exciting to be a part of. They suddenly start seeing that the solution is often based within the problem itself.
Three ethics are at the basis of all permaculture: earth care, people care and fair share. It is not permaculture if it violates any of these ethics. So right off the beginning, it ensures how you approach a situation – with everyone's well being in mind. We like to say that a permaculture solution is always a win-win solution, for all stakeholders involved. In a permaculture community that John Champagne was a part of, decisions were not made based on a majority based democracy (because of the 'losing' minority) but by complete consensus – which means the decision is discussed till every member is satisfied with the solution.
Every stakeholder should be taken into consideration. It goes without saying that a permaculture farm is organic; so it's not about how you are growing your food but also what you grow, where you grow it, who you sell it to, how much money you make and what you do with that money.
It took a 600 page manual for the founder, Bill Mollison to explain all that permaculture entails! It encompasses every part of life - from politics or economics to farming and building. There's no one right way to be a permaculturist - you use the code of ethics and basic principles to design your space and life according to the resources and limitations around you.
The interconnectivity of nature and us as a part of it ensures that we understand that if we cause harm to one, it causes harm to ourselves. We are strong when we are diverse, when we accept and adapt to change, when we observe and learn, when we value the long term, when we take care of ourselves with play and friendship – all of which are permaculture principles.
MO: We talked a bit about the benefits of running a farm. What about the challenges?
SM: The biggest challenge is climate change. Trees flower and fruit a month later now; our part of South India has lost an entire monsoon season, since the past 4 years. It's difficult to plan planting cycles. It is not just physically tiring but also emotionally and spiritually exhausting to see hundreds of trees you planted die because there is no water.
Equally frustrating is to see local farmers in my village continue to use petrochemicals as fertilizer and pesticide. There is a complete loss of traditional farming methods and norms in India, and that is heartbreaking to see.
MO: How can we adopt a more sustainable approach to food production and consumption on a smaller scale - for example, in an urban context?
SM: Foremost, we have the Power of the Consumer. Support local and small – something that tells you where, how, or by whom your product was made. Buy your food from the local lady farmer rather than the man. We can help by asking where our produce is coming from, and whether your favourite restaurant or veggie vendor knows who is growing it. They might not know today, but maybe someday soon, that question will get passed down our dismal supply chain
Eating local and organic is extremely helpful - but the Indian context is different. As an agrarian economy with a vast majority below the poverty line, making sure your food is fair trade could be more important than eating local.
"Stop consuming as much. Share and exchange clothes with your friends. Make more friends. Share cars. Walk! Talk to your neighbours, create a community - it leads to sharing. I can't stress enough that I think the only way we will be able to survive the natural catastrophe we have created, is to Make More Friends And Be Nice To Them."
MO: What would you like to see in the future of farming in India?
SM: There is a lot of potential in improving supply chains (especially in India) between rural farmers and urban chefs. I would like to see more direct communication between the two. I would like to see people segregate their waste.
I would love for the government to start nationwide compost plants to deal with the waste. I am quite hopeful of the future, actually. I get calls all the time from very intelligent, successful people wanting to leave their jobs and become farmers. It's like a subconscious beacon being lit up in people. I see the world starting to take agriculture more seriously. We are already in the time of 'agri-tech' and I think that is going to boom. I am really hoping for blockchain technology to start being used by farmers (the milk board in Kerala is already using it!)
MO: Could you provide some resources for anyone looking to expand their knowledge about farming and permaculture?
Do a Permaculture Design Course! There is permaculture in probably every country in the world right now. There are even free, online PDC's available. Open source knowledge is one of the key tenets of Permaculture – so it isn't difficult to find information on it.
Bill Mollison and David Holmgren are the 'founders' of Permaculture, so their book is a great start. Bill Mollison's A Designer's Manual is essential for anyone wanting to start farming.
Australia is the birthplace of Permaculture and has the oldest Permaculture communities; so we can see through them what thirty years of permaculture living does to people, the land and communities; and luckily there are some very inspirational people coming from there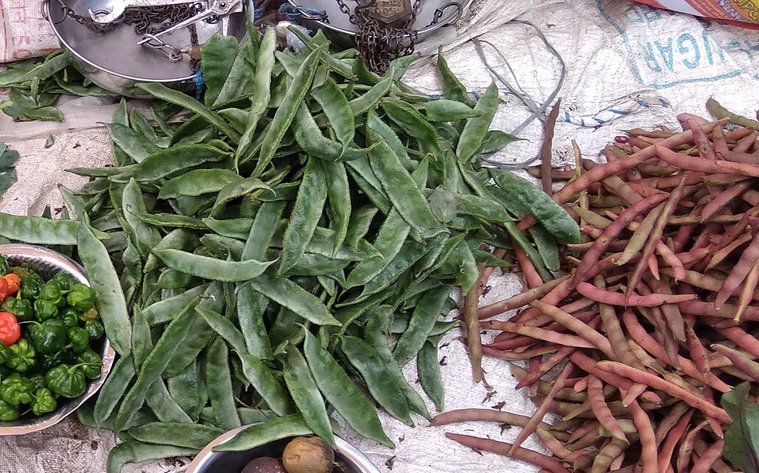 Find more information about Roundstone Farm and stay updated about future workshops and residencies:
You can follow Roundstone Farms, Kodaikanal on Facebook
and @Roundstonekodi on Instagram.
Links and Credits:
All images courtesy of Simrit Malhi and Roundstone Farms.