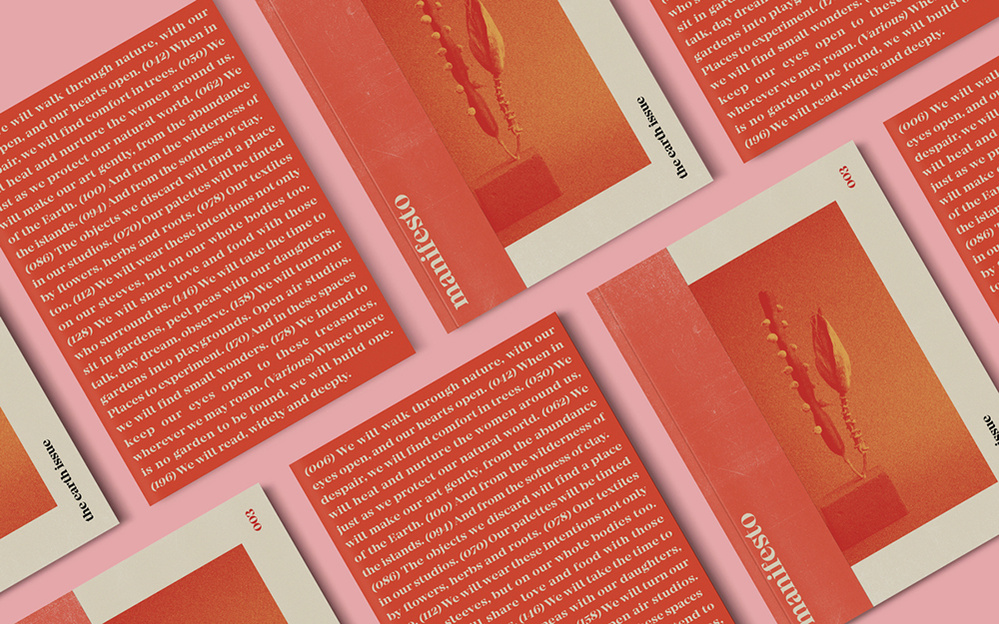 "LIFT UP YOUR HEADS!"

— F.T Marinetti's
So concludes "The Founding and Manifesto of Futurism," F.T Marinetti's avant-garde guide to plunging headfirst into an uncompromised life, a life fully immersed in art, love, poetry and fearlessness. The art-manifesto, or rather, the art of the manifesto, has served as a prototype for decades of intention-setting to come; free-flowing back and forth between the creative arts and advertising, politics, feminism, and - of late, the absurdist realms of digital media. A manifesto is prescriptive. It is fervent, but mutant. It can be as stoic or light-hearted as you, the reader, make it out to be.
Where better to appropriate the urgent didacticism of the manifesto than into the complicated and escalating conversation about the environmental crisis? Most of us wish we could do something - something more, but we feel powerless in our individualism and limited by the smallness of our actions. Where do we start? How do fight against the destruction of our environment, in a way which feels sincere and effective? This is where the crippling paradoxes arise, and for many of us, the point at which we lose hope and abandon ship. The manifesto serves as an antithesis to helplessness. It is, by nature, a roadmap designed for personal use.

MANIFESTO takes direct inspiration from artists, writers and other creatives who have, to one extent or another, authentically aligned their environmentalism and their creative practice. It looks at ways in which day to day actions can be sustainable, joyful, and in-line with one's craft.
Specifications:
Debossed cover, A4, 204 pages, offset print using non-soya vegetable oil-based inks, perfect bound, full colour on 100% recycled uncoated paper.